Buddhist Dog Prays - for Treats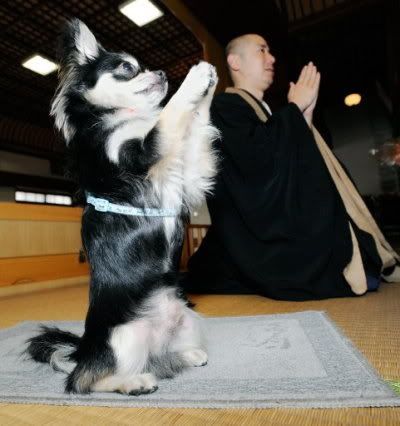 Take a look at Conan (pictured). He sure looks like he's praying, with his "palms" seemingly clasped together. A pet at the Jigenin Temple on the southern island of Okinawa, Conan has learned to imitate the worshippers around him.

"Conan started to pose in prayer like us whenever he wanted treats," said Joei Yoshikuni, a priest at the temple. "Clasping hands is a basic action of Buddhist prayer to show appreciation. He may be showing his thanks for treats and walks."

Conan is a two-year old long-haired Chihuahua. During services, he sits next to Yoshikuni in front of the altar. As the priest starts chanting and raises his clasped hands, Conan also raises his paws and joins them at the tip of his nose.

Visitors find it amazing, and come to the temple to take pictures of Conan every weeek. The temple estimates that it receives 30% more visitors, especially young tourists, than it did prior to publicity over Conan.

"Namu Amida Butsu," Conan.