I hope that those of you who voted for Huckabee are now completely ashamed at yourselves. I further hope that you realize that the religious right which controls the Republican Party most likely agrees with him. I won't go as far to say McCain is in that camp. I think McCain is playing to the right, but is far more neutral. But I think McCain needs to come out right now and slap Huckabee down. If he fails to do this then how can anyone possibly think he can handle another country if he can't control the leadership of his party. This comment from Huckabee honestly made me sick. I also think Clinton needs to comment. This is a statement so vile that is has to make you wonder how this nation allows people like Huckabee even get this far. I am outraged.
During a speech before the National Rifle Association convention Friday afternoon in Louisville, Kentucky, former Republican presidential candidate Mike Huckabee — who has endorsed presumptive GOP nominee John McCain — joked that an unexpected offstage noise was Democrat Barack Obama looking to avoid a gunman.
"That was Barack Obama, he just tripped off a chair, he's getting ready to speak," said the former Arkansas governor, to audience laughter. "Somebody aimed a gun at him and he dove for the floor."
Obama supports extending the assault weapons ban, limits on gun sales, and a national law against carrying concealed weapons, with exceptions for retired police and military personnel. John McCain – whose legislative record was awarded a C+ rating by the NRA in 2004, but has received a perfect score – will address the group later Friday afternoon. His speech will include remarks "on the issue of unconditional negotiation with state sponsors of terror" that aides tell CNN's Dana Bash are a direct response to Obama's comments earlier Friday.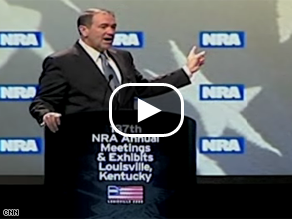 Watch Huckabee's joke at the NRA Convention Friday. (starting at 0:50)