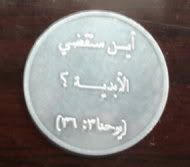 And people wonder why Iraqis look askance at us. We aren't in Iraq as missionaries, and this sort of action, no matter what the intent, is bound to produce anger in a country that already looks upon us as occupiers.

On Thursday the U.S. military confirmed that a Marine in Fallujah had passed out coins with a Gospel verse on them to Sunni Muslims at a checkpoint. The man was immediately removed from the checkpoint and reassigned. This followed a McClatchy newspaper report on the coins.

"It did happen," said Mike Isho, a spokesman for Multi National Forces West. "It's one guy and we're investigating." Marines at the western gate of Fallujah were searched, he said and one was found with the coins.

The coins had Arabic translations of a Bible verse on them. On one side, the coin read, "Where will you spend eternity?" and on the other, "For God so loved the world, that He gave His only begotten Son, that whoever believes in Him shall not perish, but have eternal life. John 3:16."

Despite the fact that the military states this was an isolated incident - and it probably is - this sort of thing will just fuel the fire and possibly increase the activity - or resolve - of insurgents.

Sheikh Mohammed Amin Abdel Hadi said:
"We say to the occupiers to stop this. This can cause strife between the Iraqis and especially between Muslim and Christians . ... Please stop these things and leave our homes because we are Muslims and we live in our homes in peace with other religions."

Before anyone says the Iraqis are upset over nothing, think of it this way: how would you feel if the situation was reversed and you passed through a checkpoint in the U.S. with military "occupiers" handing out coins with Muslim verses on them? Wouldn't you be insulted and angry?