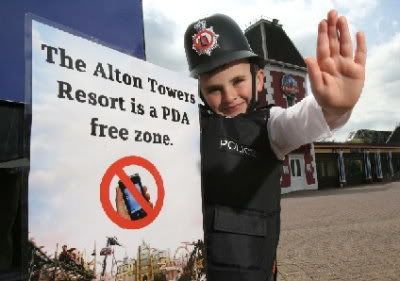 Let's be precise here: by PDA we don't mean "public display of affection." Nope, the Alton Towers Resort is banning personal digital assistants during May Half Term (May 25th - June 1st inclusive).

The new policy, a pilot program, was announced on Alton Towers Resort's web site. According to the site, the resort will have a set of "PDA Police" patrolling and asking adults to report to a "PDA Drop-Off" zone to eliminate the distraction and allow them to connect to their family.

The site is vague as to what constitutes a PDA, but my guess is that it includes smartphones and dedicated PDAs. It's also unclear as to what ramifications will occur if someone refuses to give up their Blackberry, but I'm sure the consequences won't be dire.

Russell Barnes, Divisional Director for the Alton Towers Resort explained on the site:
"What we have here is the ultimate short break location where every member of the family can unwind and have fun. We feel it's so important for parents and kids to focus on nothing more than having the best possible time, we are prepared to take drastic action to ensure that parents really leave their work behind!"
If the pilot program is successful, Alton Towers Resort expects to make the program permanent, although no timeline for a decision was given.